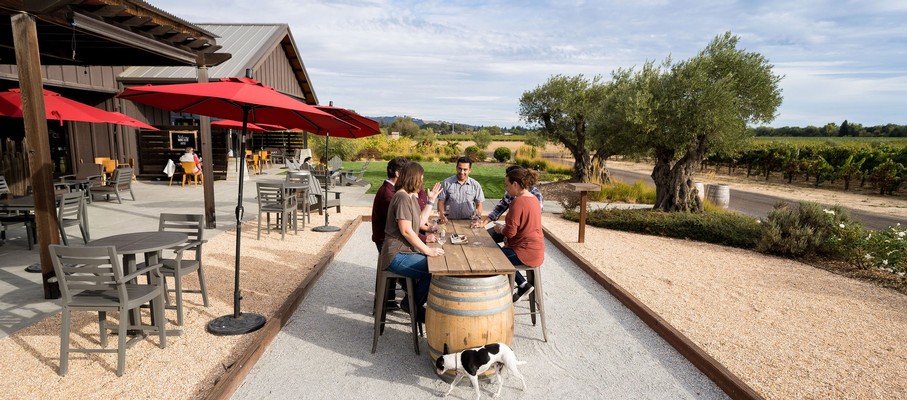 ---
CAREERS
---
Comstock Wines was inspired by the fundamental passion to grow and source only the best Sonoma County grapes and transform them into wines that are as delicious as they are memorable. Located in Dry Creek Valley, just outside of Healdsburg, CA, we pride ourselves on producing varietals that reflect the diversity of the region and specialize in small-lot handcrafted wines that can only be found here at the winery.
As we enter our 10th Harvest season, our blend of exceptional Hospitality and award-winning Winemaking has become the core of our foundation here at Comstock Wines. With a strong cellar, culinary and hospitality program, we pride ourselves on being a cohesive and supportive a team, through and through.
If you are a passionate, self-motivated, life-long learner interested in joining our team, please share your resume here.
---
OPEN POSITIONS
---
---
Department: Hospitality
Reports to: Executive Chef Jude Affronti
Location: Healdsburg, CA
Schedule: Part Time
Classification: Non-Exempt
Job Description:
Seeking an organized, motivated individual for food prep and dishwashing. In addition to responsibility for the overall cleanliness of the kitchen, this position assists Winery Chef with "from scratch" food preparation, production, and presentation. Ingredient-driven menu that adjusts frequently for seasonal availability and relies on local farms and premium purveyors. This includes but is not limited to:
- Setting up and fill 3-compartment sink
- Wash Dishes and Pots as they come
- Empty trash cans and recycling
- Maintain clean dishwashing area
- Mop and sweep area daily

The candidate will also need to be able to:
- Ensure all food safety requirements are met
- Stand on your feet for 6-8 hours
- Lift and carry 40 pounds
- Reach with hands and arms in any direction and kneel and stoop repeatedly
- Be reliable, punctual, flexible, and able to work weekends.

Reliable transportation is required; we are not accessible by public transportation.
Compensation:
Competitive hourly wage based on experience
3 days, 18-24 hours a week. Weekends and some holidays.
Potential for full-time position in the future.
---