WINERY EXPERIENCES
In light of Sonoma County's most recent stay-at-home order, our tasting experiences here at Comstock Wines will be temporarily suspended. The order, effective at midnight December 12, will be in effect through January 9th. While we cannot host you for tastings here on the property, we can still provide all of your favorite Comstock Wines, food and gifts to enjoy in the safety of your own home. We will also taste LIVE via either Facebook, Instagram or Zoom each weekday at 2pm PST.
We hope you are well and safe, and look forward to hosting you again in 2021!
---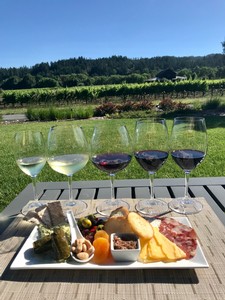 Wine Flight + Mezze Platte
The Terrace at Comstock Wines is a magical place, overlooking our Estate Merlot Vineyards. We find it the ideal place to enjoy the beauty of Dry Creek Valley and fully immerse in the distinct varietals that thrive in Sonoma County. Enjoy a private seated tasting of either our Classic Flight or our Zinfandel Flight paired with Chef Jude Affronti's Mezze Platter. Available Monday, Wednesday, Thursday, Friday, Saturday & Sunday: 10:30am, 12pm, 1:30pm and 3pm. $40 per guest / $20 per Wine Club Member. RESERVATION REQUIRED. CLICK HERE TO MAKE A RESERVATION.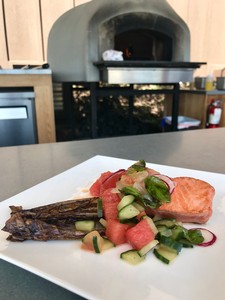 Wine & Wood Fired Pairing
We invite you to join us at the table and experience a unique flight of Comstock Wines paired perfectly with four seasonal courses prepared in our Mugnaini Woodfired Oven. Our estate chef, Jude Affronti, will present impeccable pairings that elevate your favorite varietals to satisfy all of the senses. Available by appointment Each Friday & Saturday: 11am, 1pm & 3pm. $60 per guest / $50 Wine Club Members. RESERVATION REQUIRED. CLICK HERE TO MAKE A RESERVATION.
Wine & [GRILLED] Cheese Flight
Our Winery Estate Chef has taken one of our favorite comfort foods to the next level. Inspired by our favorites - the Croque-Monsieur, the Tuna Melt, the Philly-Cheese Steak, and the Classic Grilled Cheese with Tomato Soup - Chef has created a dynamic menu that showcases the unique characteristics of each Comstock Wines varietal. This flight features four house-made "grilled cheese" mini-sandwiches, thoughtfully paired with the perfect selection from the Comstock Wines portfolio. *This pairing can not accommodate substitutions. Available each Sunday at 12Pm, 1pm & 2pm. $60 per guest/ $50 Wine Club Members. RESERVATION REQUIRED. CLICK HERE TO MAKE A RESERVATION
Classic or Zinfandel Flight
Enjoy a private seated tasting and discover our wines and the unique story behind our winery. Each Tasting Flight includes a selection of five current release wines. Available Daily by appointment. Classic Flight: $20 per guest | Zinfandel Flight: $20 per guest. Available Monday, Wednesday, Thursday, Friday, Saturday & Sunday. CLICK HERE TO MAKE A RESERVATION
---
IN-HOME EXPERIENCES

Custom Private ZOOM Flight
Join your favorite team members from Comstock Wines as we taste your favorite varietals. SIP along, ask questions, and enjoy an intimate, educational, and entertaining tasting with us from the comfort of your own home! This custom flight lets you choose any 3 of our currently available wines, and set a date and time that is mutually convenient. You can invite up to four guests to join your ZOOM, and they can purchase the wines to taste along as well! ZOOM Meeting info will be emailed to you upon confirmation of your order. $175 ORDER HERE
---
1290 Dry Creek Road
Healdsburg, CA 95448
T | (707) 723-3011
E | info@comstockwines.com
Hours:
Open Wednesday through Monday BY APPOINTMENT ONLY
Ages 21+ Years Old
Service Animals Only
No Outside Food & Beverages
Need to get in touch with us? We'd love to hear from you! Please fill out the form below and we'll contact you as soon as possible.
---
Reservation & Safety Guidelines
- Credit Card is required upon reservation.
- Comstock Wines will enforce a 24-hour cancellation policy. Fee may be refunded prior to within 24 hours of the reservation time.
- Reservations will be required to ensure Comstock Wines can maintain appropriate social distance between groups.
- All guests will be required to wear masks when they arrive, depart, and when not in their seating area.
- Seating areas will be disinfected in between groups.
- Comstock Wines staff will wear protective masks and/ or face shields at all times and maintain a 6 foot distance from guests except when delivering food and wine.
- Wine glasses, dishes and flatware are routinely washed and sanitized after each use.
- Guests will not be permitted to enter the interior tasting room, or walk around the property.
- Restrooms will be cleaned and disinfected on a regular basis
- Group sizes will be limited from 2 to 6 guests and are required by county regulation to be from the same household.
- Wine purchases will be permitted after Tasting Experience and will be provided through curbside pickup.
- All guests must be ages 21 + and Service Animals Only