Comstock Wines was inspired by the fundamental passion to grow and source only the best Sonoma County grapes, and transform them into wines that are as delicious as they are memorable. Bob and Sandy Comstock began growing grapes in Dry Creek Valley in 2002. Throughout the years the idea of creating a small winery was born. With their daughter, Kelly Comstock Ferris, stepping in to the role of General Manager, Comstock Wines opened its doors in 2015. Featuring Zinfandel, Cabernet Sauvignon, Pinot Noir, Merlot, Sauvignon Blanc, Viognier and Chardonnay, Comstock Wines strives to highlight the unique characteristics of each varietal. Veteran Winemaker Chris Russi uses his diverse understanding of the varying appellations of Sonoma County and their ideal varietals to create wines that speak to regional uniqueness. Our goal is to collectively share our enchantment with this place we call home, and our motto is simple: "We are All Comstock Wines." We consider your experience to be the final step in our winemaking process. We look forward to sharing wine and time with you at Comstock Wines.
Winery & Tasting Room:
1290 Dry Creek Road
Healdsburg, CA 95448
T | (707) 723-3011
E | info@comstockwines.com
Hours:
Open Daily: 10:30am -4:30pm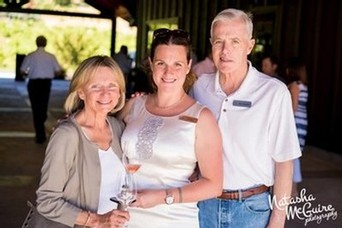 Sandy Comstock, Kelly Comstock Ferris, Bob Comstock
Need to get in touch with us? We'd love to hear from you! Please fill out the form below and we'll contact you as soon as possible.
Comstock Wines Team
---
Chris Russi has always had an affinity for science and the outdoors. Born and raised in Northern California, Chris began making wine at a young age with his grandfather and family.
After graduating from Santa Clara University with a BA in Combined Sciences, Chris spent a year at the Hastings Reservation in Carmel Valley studying Scrub Jays for the UC Berkeley ornithological dept. He was then offered a position in Healdsburg where he became vineyard/ranch manager at Orsi/Kuimelis Vineyards in Dry Creek Valley. He spent three years planting and maintaining thirty acres of vineyard. Here, his science knowledge and farming lead him to Geyser Peak Winery, where he began to hone his cellar skills and lab technique.
With time at Geyser Peak under his belt and a harvest at Peter Lehmann Wines in Barossa Valley, South Australia, Chris enrolled in the viticulture and enology program at UC Davis. Soon after graduation, Chris became winemaker at Christopher Creek Winery in the Russian River Valley, Healdsburg. During his eight years at Christopher Creek, Chris enhanced his palate and mastered his craft. He continued gaining invaluable experience over the next five years while making the elegant, artisian wines of Thomas George Estates.
Also as a professional wine judge, Chris has traveled much of the world evaluating different winemaking regions and the wines their vineyards produce. Proud owner of a small, 106 year-old, head trained Zinfandel/Carignane vineyard which he maintains himself, Chris claims he will never leave Sonoma County, which he considers one of the most diverse growing regions in the world.
Now, at Comstock Wines, Chris is using his diverse understanding of varying appellations of Sonoma County and their ideal varietals to create wines that speak to regional uniqueness.
---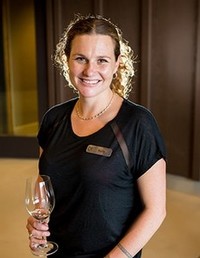 Kelly's love for people, wine and beverages led her to open a neighborhood bar in New York City's popular East Village. In this highly competitive environment she honed her management and hospitality skills. During this time she also completed her MBA in Marketing & Entrepreneurship.
After many snowy winters, Kelly traded city life for the perfect spot in Dry Creek Valley. She joined the Winegrowers of Dry Creek Valley (WDCV) as their Marketing Coordinator, then returned to hospitality as Tasting Room/Hospitality Manager and then Wine Club Manager/ Marketing Director for two popular Dry Creek Valley wineries.
With nearly twenty years in hospitality and business management, a Certified Travel Ambassador (CTA) for Sonoma County and active member of the WDCV Marketing Committee, now, as General Manager at Comstock Wines, Kelly is able to combine her experience and passion in one extraordinary place. She can't wait to share her time and Comstock Wines with you!
---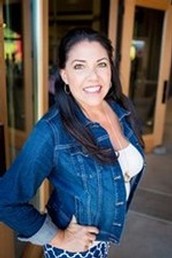 Tracy made Sonoma County her home in 1990 after graduating from college with a degree in Communications and Psychology. She quickly gravitated to hospitality and then the catering arena. As the owner of her own catering company, Tracy's love of event coordination and execution grew. She moved into the position of Special Event & Hospitality Manager with a well-known Dry Creek Valley winery, and then further honed her event skills as Sales & Event Manager for a popular wedding destination winery in the area.
Tracy's passion for wine, food and events led her back to the beloved Dry Creek Valley and to Comstock Wines in spring 2015. As Hospitality Director, Tracy facilitates every aspect of our guest experience, from daily tasting experiences to private event coordination. She ensures that the final step in our winemaking process is your initial introduction to our exceptional hospitality.
---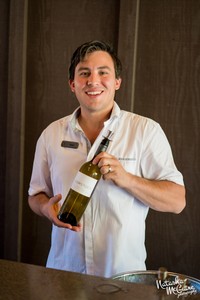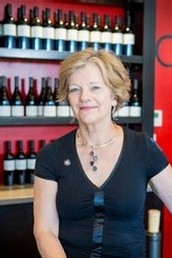 Lianne McFadden | Wine Club Ryan Leonhardt | Sales Sandie Krutz | Tasting Room Lead
---