WINERY EXPERIENCES

Daily Tasting
Join us at our expansive tasting bar and discover our wines and the unique story behind our winery. Each Tasting Flight includes a selection of five current release wines. Available Daily: 10:30a-4:30p. Classic Flight: $20 per guest | Red Flight: $20 per guest (Complimentary with wine purchase) Groups over 8 people require a Reservation. Please contact us for reservation and pricing information. Make Reservation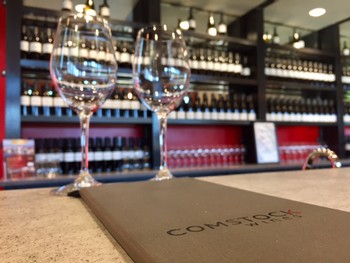 Terrace Tasting
The Terrace at Comstock Wines is a magical place, overlooking our Estate Merlot Vineyards. We find it the ideal place to enjoy the beauty of Dry Creek Valley and fully immerse in the distinct varietals that thrive in Sonoma County. Enjoy a private tasting of six of our favorite wines. Available Daily: 11am, 1pm, 3pm. $35 per guest / $20 per Wine Club Member. RESERVATIONS REQUIRED. For Groups over 8 people, please contact us for reservation and pricing information. Make Reservation
*add a Charcuterie Plate to any tasting for $30
Wine & Cheese Pairing
This private, guided tasting includes a selection of four of the region's best artisan cheeses, chosen to compliment the flavors of our dynamic wines. Available Daily: 11am, 1pm, 3pm. $45 per guest / $25 per Wine Club Member. Groups over 8 people require a Reservation. Please contact us for reservation and pricing information. Make Reservation
Brunch White Flight
Treat yourself to this decadent experience and enjoy a flight of our Sauvignon Blanc, Viognier, Chardonnay and Pinot Noir, paired perfectly with your favorite seasonal brunch bites. Available by appointment. $50 per guest/ $45 Wine Club Members. Limited to 20 guests. Groups over 8 people require a Reservation. Please contact us for reservation and pricing information. BOOK NOW.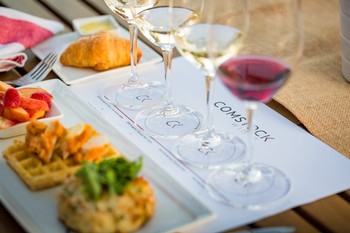 Wine & Pizza Pairing
Enjoy an afternoon of great wines, grand food and good games! We invite you to join us at the table and experience a unique flight of Comstock Wines paired perfectly with pizzas prepared in our Mugnaini Woodfired Oven. Then get your game on and enjoy our regulation size Bocce Court. Available Each Saturday (Beginning March 3): 12pm & 2pm, or by appointment. $50 per guest / $40 Wine Club Members. RESERVATION REQUIRED. Make Reservation
Estate Vineyard Tour & Tasting
Participate in a genuine Grape-to-Glass experience, as you tour and taste our Estate Vineyards at Comstock Wines. Taste wines directly in the vineyards where they were grown. Learn about different pruning techniques, row spacing and irrigation methods. Featuring our estate Sauvignon Blanc, Merlot and three generations of Zinfandel, leisurely sip as you discover our unique terroir and the different seasons in the vineyard. Available each Sunday: 1pm & 3pm. $45 per guest / $35 Wine Club Members. RESERVATION REQUIRED. Make Reservation.

​CUSTOM EXPERIENCES
Picnic with Comstock Wines
Relax and savor the wine country! Enjoy a flight of Comstock Wines and a picnic basket in our beautifully landscaped picnic area. Each basket includes salami, cheese, crackers, olives, chocolates, dried fruit and nuts (vegetarian option available as well). We provide the linens, stemware, cutting board and knife to make your picnic complete. Full family-style lunches and boxed lunches are also available. Make Reservation
Blending Seminar
Join veteran winemaker, Chris Russi, or one of our Wine Educators and learn what it takes to make the perfect blend. This is a unique opportunity for wine lovers of all levels to enjoy a one-of-a-kind tasting experience. Tour Comstock Wine's state of the art facility, and then take your shot at becoming winemaker for a day as you assemble your own blend. Available by appointment. $75 per person / $60 for Wine Club Members BOOK NOW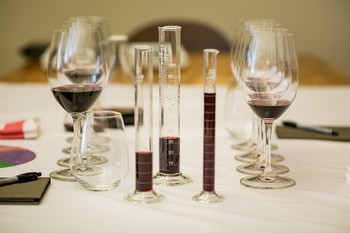 Winery Tour and Taste
Learn about our history, philosophy and winemaking techniques, along with our commitment to sustainable farming on a tour of our winemaking facility, located on our seventeen-acre estate in the bucolic Dry Creek Valley. Explore our estate vineyards and learn about our vineyard practices, winemaking techniques and our commitment to excellence in winemaking. Available: By Appointment. $45 per guest / $25 Wine Club Members. Reservations required. BOOK NOW
Winemaker's Table
Join our winemaker and hospitality team members at our open table for a casual tastings and an organic experience and discussion about wine. Taste 5 wines along with charcuterie bites. Available by appointment. $50 per guest / $45 Wine Club Members. BOOK NOW
WINERY & TASTING ROOM:
1290 Dry Creek Road
Healdsburg, CA 95448
T | (707) 723-3011
E | info@comstockwines.com
Hours:
Open Daily: 10:30am -4:30pm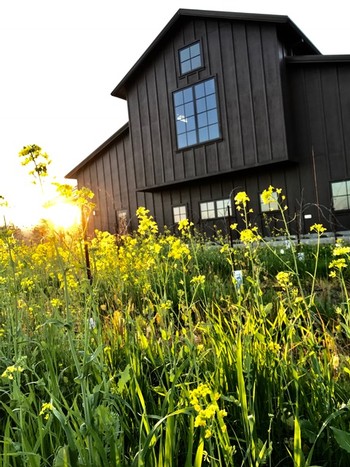 Need to get in touch with us? We'd love to hear from you! Please fill out the form below and we'll contact you as soon as possible.
---
Calendar