Easter Egg DROP-Child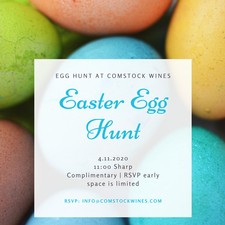 Due to COVID-19's Shelter In Place order, we are not going to host our Annual Egg Scramble in the Vineyard.

As we, and the Easter Bunny, do not want to disappoint the little one, we will have our first (and hopefully only) EASTER EGG DROP on FRIDAY April 10th, between 11am -1pm. The Easter Bunny himself will be handing out pre-packed bags of colorful eggs. Treats (WINE) will be available for purchase for parents too.

Curbside pick up only. RSVP required as Egg Bags are limited. Please RSVP for each child. Ticket Link Below!